Dodgeball - Mondays - Knoxville
Program Description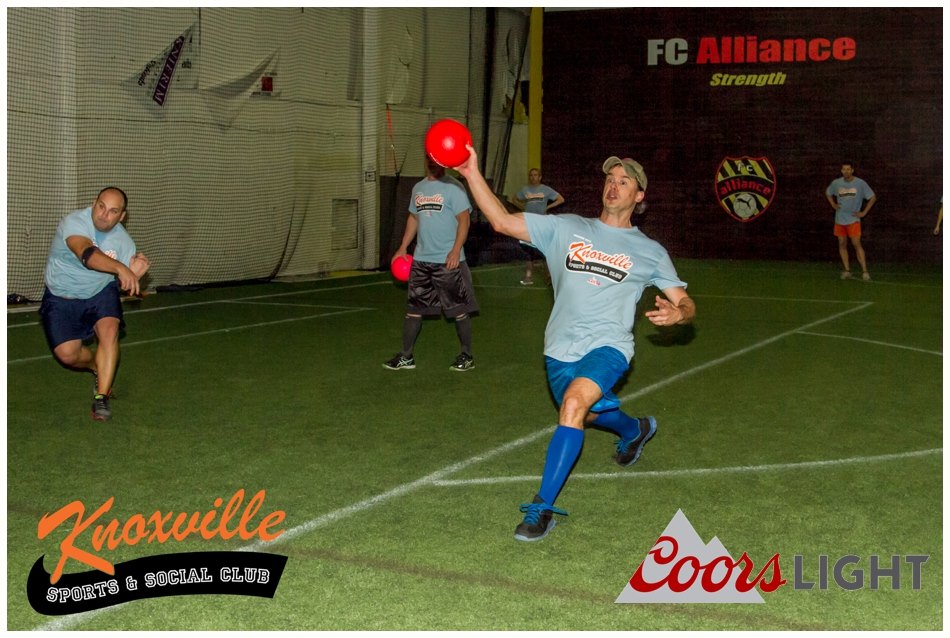 NO GAMES DECEMBER 5th or Jan 1st FOR HOLIDAYS
Classic indoor Dodgeball, just like you remember from middle school. KnoxSSC's Dodgeball is Co-Ed, 9 vs. 9 and fast-paced. We play with 8.5-inch rubber coated foam balls - enough to get some speed behind, but not enough to hurt when they hit. Face Shots Are Legal
This league features:
Games on Monday nights between 6:00PM - 9:00PM
Sign up by yourself, with a group of friends or as a whole team
Co-ed, over-21 play
Official KnoxSSC T-shirt (your uniform for the season!)
6 Guaranteed Games (Regular Season and Playoffs Combined)
Two independent professional referees for each game.
Socializing at the bar after the games
1. Fieldhouse Social - 2525 University Commons Way Knoxville, TN 37919

SPECIALS - $10 Miller and Coors Buckets, 20% OFF ALL FOOD!
Moe's Original Bar B Que - 4405 Kingston Pike Knoxville, TN 37919
SPECIALS - 20% Off Food $10 miller Light & Coors Light Buckets (5 Bottles)

PLAYERS MUST MUST MUST WEAR KnoxSSC T-SHIRT!
Program Details
Format:
Co-Rec
Official Rules:
Dodgeball Rules
Location:
Knoxville - Knoxville Volleyball Academy
Registration Dates:

Now — Nov 1, '17 Early

Nov 2, '17 — Nov 15, '17 Regular & Team Deadline

Nov 16, '17 — Dec 12, '17 Late

Max Teams:
10
Team Roster:
13 Players Minimum, at least 4 of each gender. No Maximum.
First Game Date:
Monday, November 27, 2017
Last Game Date:
Monday, January 22, 2018
Postseason Format:
Top 6 teams
Individual Price:

Early

$55.00

Regular & Team Deadline

$60.00

Late

$65.00 (See Refund Policy)
Team Price:

Early

$55.00 per person

Regular & Team Deadline

$60.00 per person

Late

$65.00 per person (See Refund Policy)