Spring Flag Football - Sunday Afternoons - Safety City
Program Description
Late Registration open to female free agents and invited players only.
In order to ensure this league has a balance of men and women, registration is currently open to women only for free agents or individuals who have been invited by their team captain. If you are a guy and missed the deadline, we may still be able to get you in if you sign up with at least one female player. If this is the case, please
contact us
.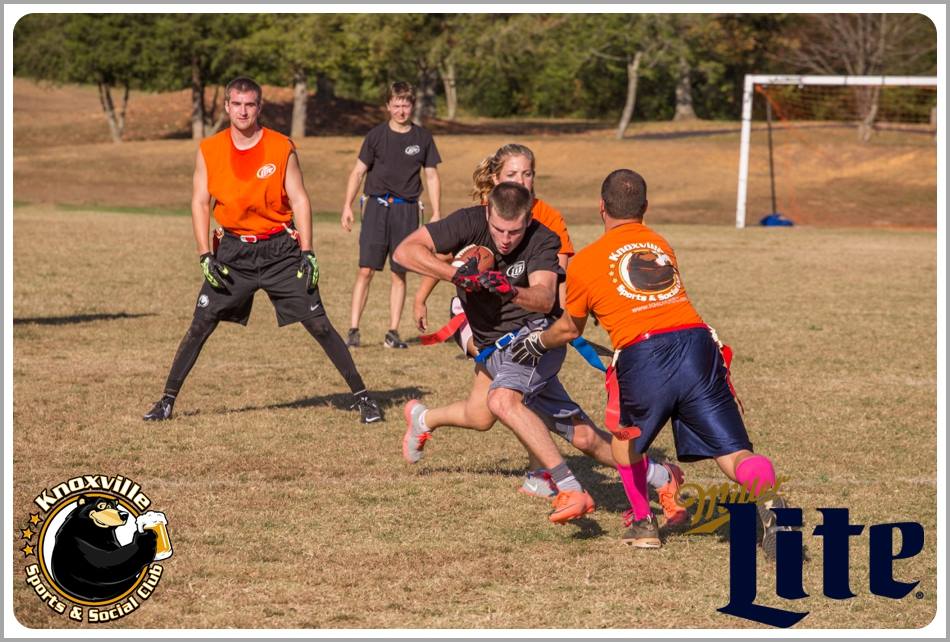 Regular & Team Deadline is Wednesday August 16th.
Any Player That Signs Up After The Regular & Team Deadline Will Receive A Sport Grey (I Signed Up Late) Shirt.
The last day to add people to all teams is Monday September 11th.

We Will Be Playing At Safety City

KnoxSSC's Football is a co-ed, non-contact 6 vs. 6. Gender minimum on field is 2, maximum is 4. If a team is short, they can play with as few as 4. Each roster must consist of at least 10 players with a gender minimum of 3 of each gender.
This league is meant for people who want to play football in a more recreational setting. Game times will be between: 12PM & 7PM - Sunday Afternoons.

This league features:
Sign up by yourself, with a group of friends or whole team
Co-ed, over-21 play
Official Knoxville Sports & Social Club T-Shirt (your uniform for the season!)
6 Games Including Playoffs for qualifying teams & Consolation Games
Season Can Be Shortened Due to Continuous Inclement Weather
Two Independent Referees for each game.
Socializing at the bar after the game.
At least one double header should be expected.
The Sponsor Bars and Specials are:
1. Moe's Original Bar B Que - 4405 Kingston Pike Knoxville, TN 37919
SPECIALS - 20% Off Food $10 miller Light & Coors Light Buckets (5 Bottles)

2. Fieldhouse Social - 2525 University Commons Way Knoxville, TN 37919
SPECIALS - $10 Miller Lite Coors Light Buckets (5 Bottles). 20% off food
DRAKE"S - 242 Morrell Rd, Knoxville, TN 37919
SPECIALS - $10 Miller Lite & Coors Light Buckets (5 Bottles). 20% off food
4.Rooster's Bar & Grill - 7585 S Northshore Dr, Knoxville, TN 37919
Specials - $9.99 Large One Topping Pizzas, $5.99 Nachos, $7.50 Coors Light & Miller Light Pitchers, $3.00 Blue Moons Pints or Bottles
PLAYERS MUST MUST MUST WEAR KnoxSSC T-SHIRT TO RECEIVE THE SPECIALS!
Drink Responsibly! Know Your Limits, & Don't Drink & Drive!
Program Details
Format:
Co-Rec
Official Rules:
Flag Football Rules
Location:
Knoxville, TN - Safety City
Registration Dates:

Now — Feb 7, '18 Early

Feb 8, '18 — Feb 21, '18 Regular & Team Deadline

Feb 22, '18 — Mar 26, '18 Late

Max Teams:
20
Team Roster:
10 Players Minimum, at least 3 of each gender. No Maximum.
First Game Date:
Sunday, March 11, 2018
Last Game Date:
Sunday, May 13, 2018
Postseason Format:
Top 6 teams
Individual Price:

Early

$50.00

Regular & Team Deadline

$60.00

Late

$69.00 (See Refund Policy)
Team Price:

Early

$50.00 per person

Regular & Team Deadline

$60.00 per person

Late

$69.00 per person (See Refund Policy)